Building
Modular construction: how does it slot into the built sector?
September 22, 2021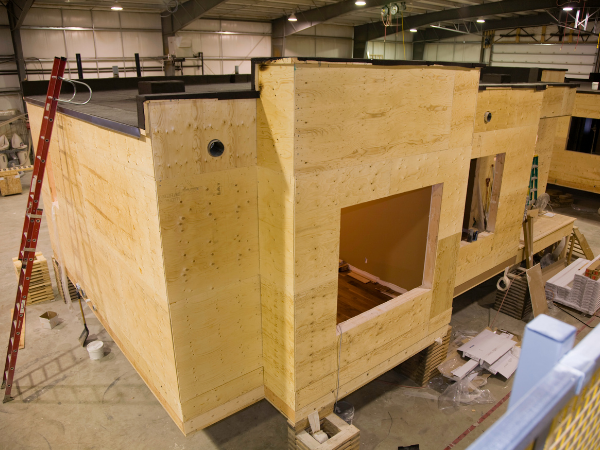 As we become more aware of our impact on the environment and work towards achieving net zero, alternative solutions to traditional methods are becoming increasingly popular.  In the built sector, one such solution is manifesting in the form of modular construction, which falls under the broader term 'Modern Methods of Construction' (MMC).
MMC supports the commitment the Government made within the Construction Playbook to 'build back better, greener, faster', and using modular units in isolation, or alongside traditional construction methods, can improve and expediate the building process.
Adam Dodd, Operations Director at Harwood Building Control, comments, "Compared with five years ago, when we were just seeing modular being used for smaller jobs, pretty much every sector is now using it, including schools, hospitals, and housing associations. We've worked across a wide range of modular projects with clients and expect to see that trend increasing."
What is modular construction?
Modular construction is the process of using units constructed off-site, in a factory environment, to form a complete building.  The units can be newly built for purpose or converted from old shipping containers, giving a new lease of life to otherwise unused pods.
In such instances, the units are often transported to site and craned into place.  However, modular units can be freestanding structures in themselves, taking the form of entire houses or office pods, delivered directly to site, ready for placement.
What are the benefits of modular construction?
There are many benefits to modular construction, from various standpoints of the construction process:
The high-level of detail on air tightening and insulation measures undertaken on each unit in the factory aids the reduction of carbon emissions, contributing to the Government mandated target of net zero by 2050.
There is a lesser time constraint, as construction can be brought to site very quickly following the completion of groundworks, limiting build and disruption times on-site.
There is a reduced risk of defects, as units generally undergo a more rigorous quality assurance process than a traditional build may do, before being delivered to a client.
Modular construction is not dependent on environmental factors, such as weather conditions, therefore lowering the overall risk level of the project.
Do different building regulations apply for modular builds?
Shaun O'Neill, Building Control Project Manager at Harwood explains," Modular units comply with the same building regulations as traditional buildings.  As the units are often manufactured in factory conditions, they are easier to inspect for compliance with building regulations, as multiple pods can be inspected at the same time, at the same stage of construction, and any snags can be dealt with in the factory."
As units can be stacked to form multi-storey structures, the connection details between units and fire stopping methods are more complicated than in traditional builds.  When working with a concrete frame, there is only an opening in the floor to consider when adding a storey, whereas modular construction calls for consideration of all surrounding frames and how this will impact the structure as a whole.  As such, it is crucial that all modules are inspected by a trusted building inspector.
How is the construction sector being impacted by modular construction?
"We are witnessing an increased demand for modular construction year-on-year, with around 5-10% of our business enquiries now centering around this construction method," Adam comments," clients understand there are significant environmental benefits, as well as advantages in terms of QA and scheduling."
As a sector, modular construction can help to streamline existing processes: as units are manufactured in such a uniform way, the main elements of construction can be reviewed in the factory before arriving on site, whilst most of the on-site inspections will be to review groundworks, firestopping and commissioning. "The advantages of factory inspections are that we are able to see good detailing on key elements of insulation and air tightness before we get on site, which speeds up the overall process for our clients." Adam explains.
The design process is also likely to be refined as a result of modular, with designs and detailing approved earlier and possibly transferable across projects, which could result in design teams being more centralised.
Modular clients working with Harwood have the potential to be issued with their own 'type approval' for a specific system, which can be used for future schemes. Not only does this have the benefit of being more cost effective in the long term, in terms of vastly reduced plan assessment fees, but also means the system is more attractive to prospective developers, as the system already has regulation approval subject to site specific items, all of which can be identified on the 'type approval' certification.
Research from Savills entitled 'Modern Methods of Construction' suggests that 20% of UK homes will be built using MMC over the next ten years, an increase from the current 6-10%. At Harwood, we are certainly seeing this reflected through a shift in attitude towards modular. The environmental benefits, greater quality control and reduced risk to schedules will mean we continue to see the rise of projects within this sector.
Are you planning a modular construction project of your own or would like more information?  Harwood Building Control ensures buildings are safe for their users by identifying non-compliant features and working directly with design teams and contractors to bring workable solutions.  If you're looking for a partner to add value to your projects, get in touch today on +44 (0)1227 931 777 or email enquires@harwood.uk.com
If you are looking to mitigate risks in terms of delays or unexpected costs, the experience of Harwood Approved Inspectors ensures buildings are safe for their users by identifying non-compliant features and working with design teams and contractors so they can create real-world solutions to construction challenges. Based in Kent, Harwood provides Approved Inspector building control services for commercial construction projects across England and Wales. Our highly professional yet approachable approach and pragmatic attitude ensures the details that matter are taken care of.