Case Study
Albert's proving a champion in his charity challenge
May 25, 2023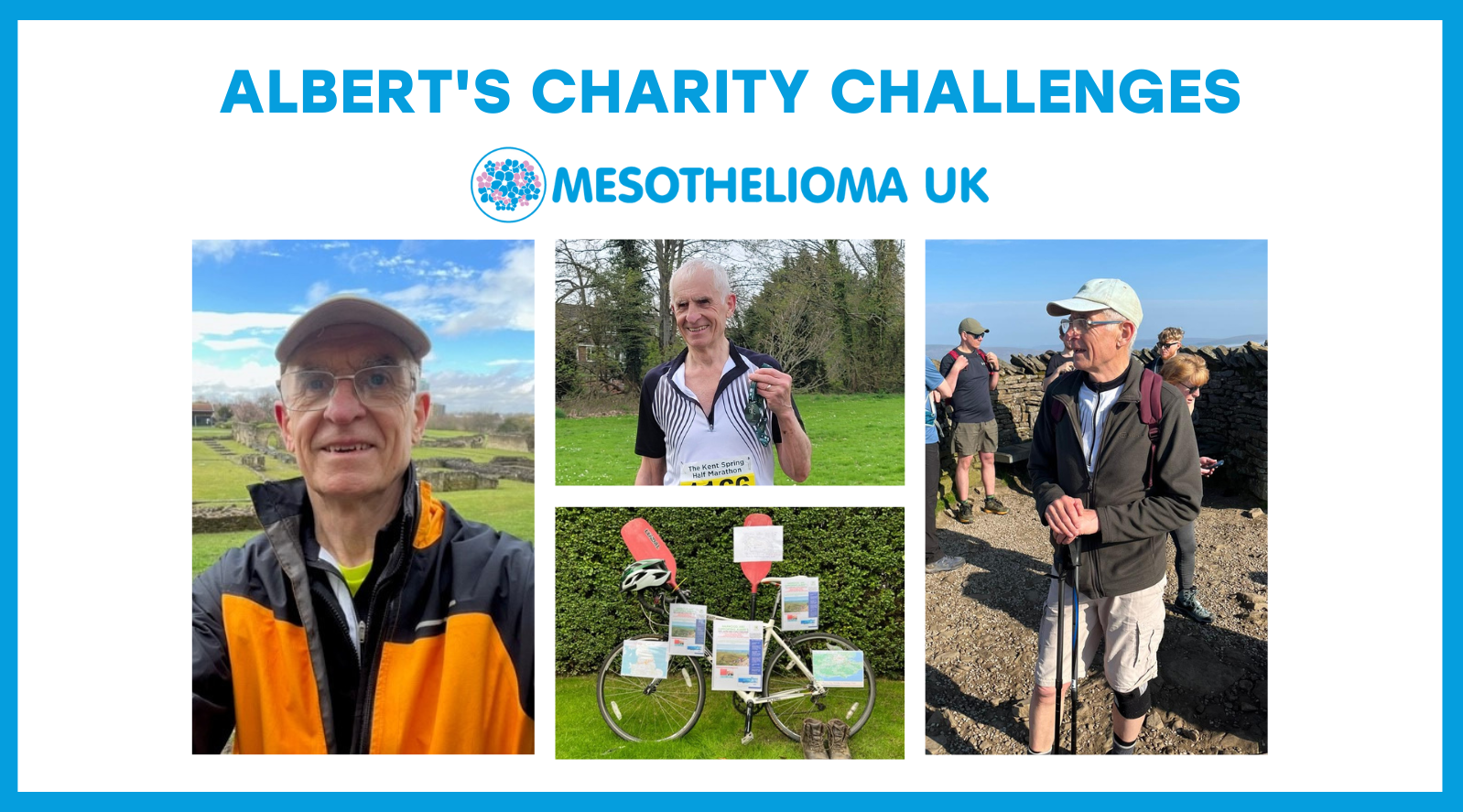 At Harwood, we take great pride in the extraordinary people we meet and work with. One of those people, Albert Walton, a Site Inspector, has chosen to celebrate his 75th year in a remarkable way. For those of you who are yet to hear Albert's inspiring story, here's a bit of background!
Albert has dedicated his 75th year to an ambitious series of physical challenges with a noble goal. His mission? To raise funds to support patients and their families affected by mesothelioma.
Mesothelioma, caused by exposure to asbestos, is a form of cancer that predominantly affects those who have worked in the construction industry with older buildings. With over 5000 deaths annually due to asbestos-related illnesses, it's a silent killer whose peak fatalities are projected to occur in 2030.
As a member of the construction industry himself, Albert is acutely aware of the risks associated with asbestos exposure and the catastrophic impact mesothelioma can have on individuals and their families.
Albert has set his sights on undertaking 7.5 gruelling challenges (a challenge for each decade) to raise funds and awareness for Mesothelioma UK, a charity that tirelessly supports patients and their families whilst promoting vital research into the disease.
Albert's journey began with an epic Southwark Cathedral to Canterbury Cathedral walk, followed by an intense Ashford Half Marathon, with the next stages being the Yorkshire Dales Three Peaks, a Trans Pennine Trail by Tandem, a 75 mile Cycle Time Trial, a Triathlon, an Open Water Swim of one mile, and a staggering 52-mile kayak around the Isle of Sheppey.
Challenge 1: Southwark Cathedral to Canterbury Cathedral
The first challenge, the Southwark to Canterbury Cathedral walk, was a testament to his grit and resilience. Starting at Southwark Cathedral on a rainy 17th March, Albert traversed 22 miles of urban terrain to reach Dartford. Despite setbacks due to weather and navigational issues, Albert's resolve didn't waver.
The following days saw Albert covering remarkable distances. From the Darenth Valley and North Downs Way to Trottiscliffe, the journey became a marathon, both physical and mental. After three gruelling days filled with highs and lows, Albert completed his epic walk at Canterbury Cathedral, with his sister joining him for the final 13 miles.
Challenge 2: Ashford Half Marathon
Albert then moved onto his second challenge: the Ashford Half Marathon. With unwavering determination, support from an experienced runner friend, and a carefully crafted training plan, Albert managed to complete the challenge in just 2 hours and 19 minutes.
Challenge 3: Yorkshire Dales Three Peaks Challenge
On the 20th of May, Albert tackled the Yorkshire Dales Three Peaks Challenge. Surrounded by a team of supporters, he and his crew completed the 24.5-mile challenge in an impressive 10 hours and 35 minutes, beating their 12-hour target.
It was a day of both endurance and camaraderie. From scaling Pen-y-Ghent, the longest trip of the three peaks, to navigating the treacherous descent from Whernside, Albert and his team soldiered on. The final climb to Ingleborough proved to be a test of grit, with fatigue setting in. Yet, the team persisted, successfully completing the challenge.
David Woodward, CEO at Harwood, says: "Albert's story is a real inspiration; we have all been so impressed by his resilience and determination. Everyone at Harwood is supporting his sterling efforts to raise funds for Mesothelioma UK and we couldn't be prouder of his commitment and dedication to raising awareness and funds for such a vital cause.
"We hope that his story encourages others to contribute to this cause, raising awareness of the risks associated with asbestos exposure in the construction industry.
"It's fantastic to see Albert conquering each challenge, and we eagerly anticipate the next chapter of his journey."
Albert's journey is far from over, and we invite you to join us in supporting him every step of the way. Keep an eye on our LinkedIn page where we'll be posting regular updates about each challenge.
Whether you choose to join Albert in his future challenges or to kindly donate to his Just Giving page, every effort counts.